Of all the Charlie Browns in the world, I'm the Charlie Brown-iest.
@celebrityhottub is blocked
Are you sure you want to view these Tweets? Viewing Tweets won't unblock @celebrityhottub.
(Kentucky hoops twitter and FSU football twitter make out passionately)
189 retweets
267 favorites
Twitter's gonna be an avalanche of nice if this goes to OT tied 69-69.
63 retweets
155 favorites
The great thing is, no matter the outcome, there are ND fans who will use this game as proof Brian Kelly should be fired.
48 retweets
88 favorites
(Knicks lose to Wake Forest)
25 retweets
64 favorites
Somewhere, a jubilant Jimmy Clausen is telling a waitress he's Nick Carter.
76 retweets
121 favorites
You can experience this level of national support in football, Notre Dame, but you'll have to hire Dana Holgorsen.
36 retweets
61 favorites
The possession arrow seems absurd unless you grew up with a sibling and remember how your parents determined who was in the wrong.
73 retweets
91 favorites
Nobody's beating Bo Ryan until they hire Simon Belmont as head coach.
20 retweets
21 favorites
And Sean Miller looks like all the Entourage main characters combined into one person.
84 retweets
103 favorites
Bo Ryan looks like a man who knows how to fix a dog race
145 retweets
186 favorites
You have to be a total professional to shimmy like @DanRubenstein this early in the morning. https://www.youtube.com/watch?v=IsXDzatX0w8 … pic.twitter.com/ZsDxBqA9Vk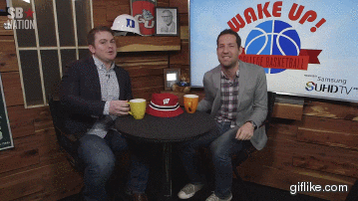 3 retweets
8 favorites
What about speech and debate? RT @BOSSLIFEDAT13: DONT ASK ME TO COME TO NO CLUBS THATS NOT MY LIFESTYLE #RUNDAT
1 retweet
10 favorites
Tom Izzo's gonna get asked to turn down the Boz Scaggs at the team hotel tonight.
21 retweets
26 favorites
ahahaha the refs just completely stopped doing anything
9 retweets
14 favorites
Verne's about ten minutes away from referring to "sitting President Gerald Ford."
55 retweets
72 favorites
Twitter may be over capacity or experiencing a momentary hiccup.
Visit Twitter Status for more information.
Don't miss any updates from Ryan Nanni